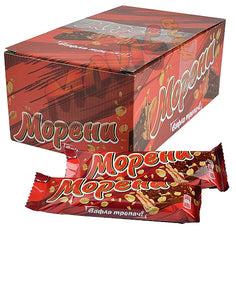 ,,MORENI''-BOX -Chocolate Wafer Bar with Nuts-30pc
$3600

$36.00

1.65 kg (shipping weight)
---
---
,,MORENI'' -Chocolate Wafer Bar with Nuts-30pc
exp.13/04/2023

My favourite waffles from childhood, Love them!
"Moreni" Wafer - BOX
I am happy with this purchase. Came 2 days earlier, no problem with the package, Moreni are in good condition! The price is very good, but shipping is expensive for me - from 36.00 for Moreni box, total came to 61:00.
But thank you very much for the purchase, everything was exact done!